Home
Main content starts here, tab to start navigating
Re-Opening Late April 2021! Thank You For Your Support
Slide 1 of 11
Slide 2 of 11
Slide 3 of 11
Slide 4 of 11
Slide 5 of 11
Slide 6 of 11
Slide 7 of 11
Slide 8 of 11
Slide 9 of 11
Slide 10 of 11
Slide 11 of 11
2021 St. Patrick's Festival
The Downtown Tradition is Back!
The renovation of Meg O'Malley's is in full swing, and we will be back better than ever soon. While the work continues inside, we decided our favorite time of year was still worth safely celebrating outside. So we hope you'll get your green on and join us for the 22nd Annual Meg O'Malley's St. Patrick's Festival in Downtown Melbourne on Saturday, March 13. It promises to be a magical day filled with plenty of entertainment, music, food, fun and more...
St Patrick's Day Entertainment Schedule 2021
7:45 am- 1 Bagpiper to start off the Shamrock 5K Shuffle-
8:00- Shamrock Shuffle 5K
9:00-Bagpipers—Street Party starts
10:00-11:15- Kindred Spirits
11:30-12:15- Dancers
12:15-2:45- Cahir with a break in between
3:00-3:45- Dancers
3:45-4:30- Cahir
4:30- Bagpipers
6:00 - Greggie & The Greggie And The Jets
8:00 - Artikal Sound Sound System
10:00 - The Supervillains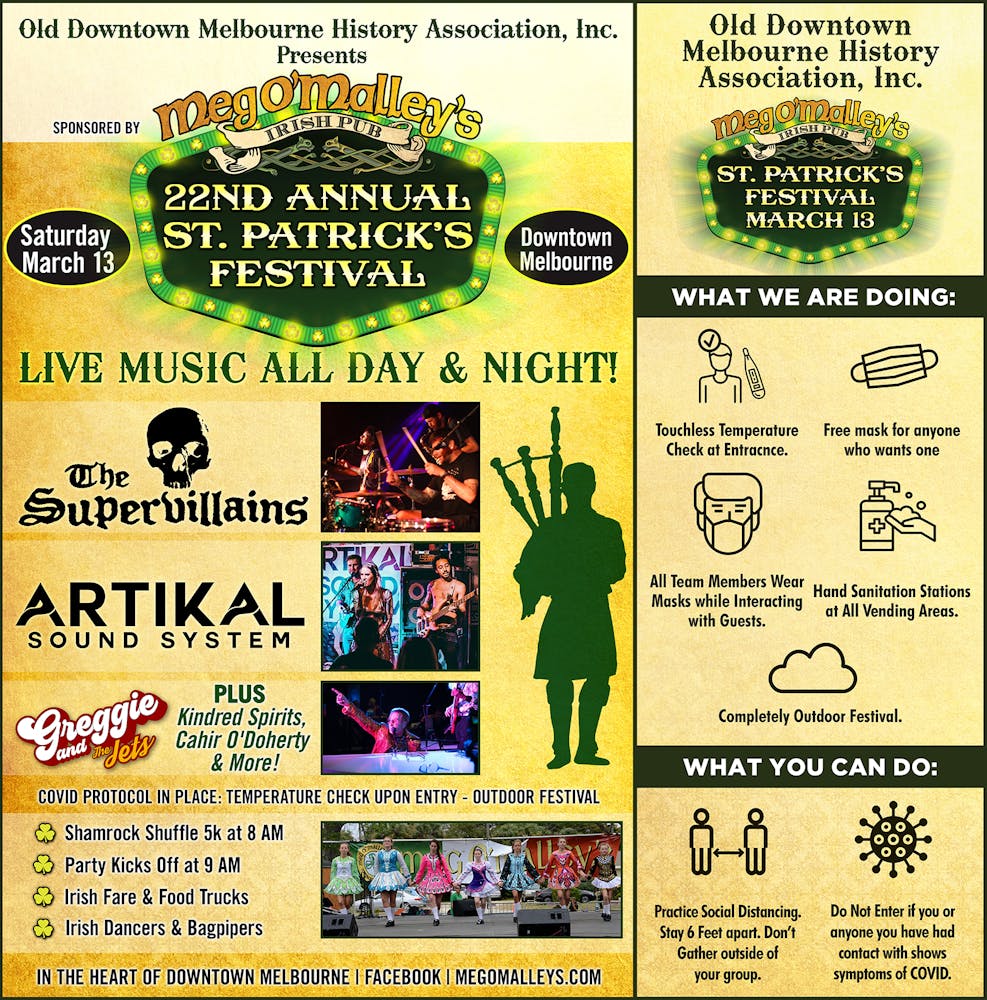 Call Ahead
Click below to join the waitlist online
Private Events
Click below to book your event.
Learn More
Catering
Have us cater your next event!
Learn More